Enjoy a day in the Östgöta Archipelago.
In the summer, from 6 July to 3 August 2019 Skärgårdslinjen operates daily services in Östgöta Archipelago from Arkösund in the north to Fyrudden in the south. Now, you can pre-book your boat tickets on the red route from Arkösund to Harstena. The boat calls at Arkö, Kopparholmarna, Aspöja, Lammskär and Tyrislöt on the way to Harstena, where it stops for approx two hours before going back the same way to Arkösund. For suggestions on places to visit and a timetable, go to Skärgårdslinjen's homepage www.skargardslinjen.com

The boats have indoor and outdoor seating and basic refreshments with cash payment only. Cycles are not permitted and there is limited access and facilities for disabled persons. Dogs are welcome to travel on the deck.

You can book your ticket on line until 9 pm on the evening before departure. Only some of the boat's passenger capacity can be booked on line however. If you get the message that it is fully booked, you can buy a ticket on board, subject to availability. Please note that return tickets are booked as two single tickets.

Passengers with pre-booked tickets board fifteen minutes before departure.

Read more about Östgötaskärgården at www.visitostergotland.se/archipelago

Archipelago Line tour depart daily July 6 - August 3 2019, 9:30 from Arkösund. Arrives Harstena 12:00. Return from Harstena 14:20 and again in Arkösund 16.40.
Show more
Book now - choose start date and product
Bed & Breakfast
Distance: 27.8 km
Kolmårdens Bed & Breakfast is nice situated about 30 minutes from Norrköping. Book a place to stay overnight, or conference, private parties, weddings, golf packages or take a night extra night for holiday abroad and leave the car.
Hotel
Distance: 20 km
This beautiful manor house, dating from the 16th Century, has a colourful and interesting history. It is situated on a cliff with a magnificent view over the bay of Bråviken and its interiors are a hamonic combination of modern living with historical ambience.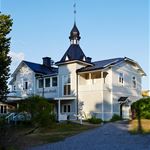 Hotel
Distance: 200 meters
This hotel lies in the archipelago. There are 18 modern rooms with totally 40 beds. Some of them have their own terrace and/or sea view. All rooms have a shower, WC and TV. In an annex close by their are 40 extra beds ready for use.